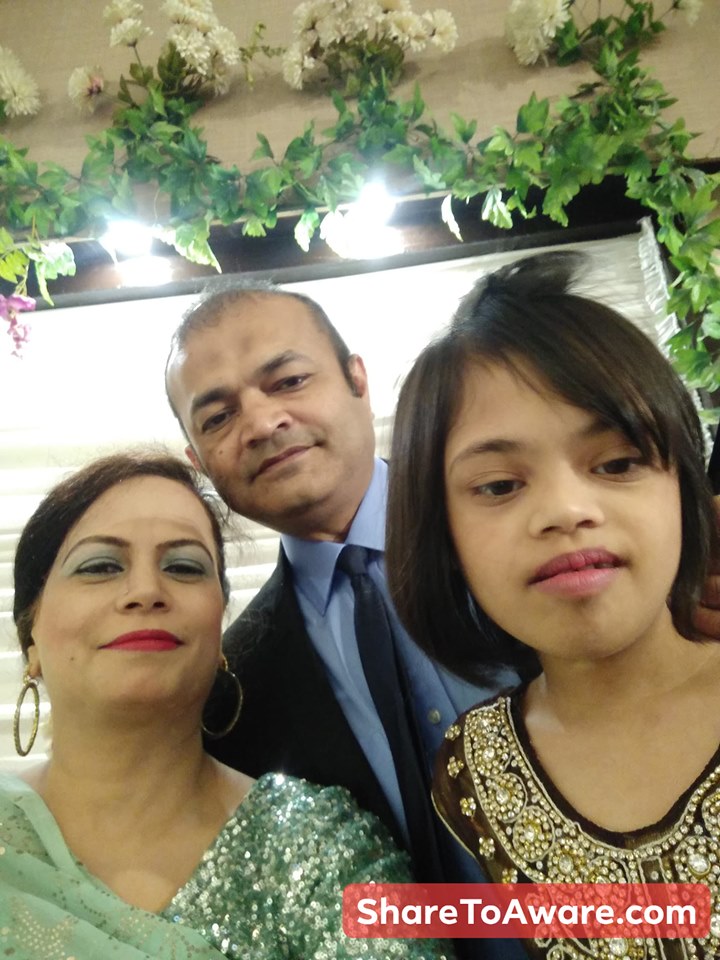 This is a journey, that I took on some 9 years back, after the birth of my second daughter Xunairah, who was born with Down Syndrome and a tiny hole in her heart.
It is not easy for any parent to be told by a paediatrician that your child won't be able to attend school, will have serious health issues & would not be able to survive for long. I have been an optimistic person throughout my life, so I took it as a challenge. Xunairah also has weak lungs and we noticed that she suffers from severe chest congestion from the months of October to April each year.
I told my husband that this is the last time we have cried regarding her diagnosis; we have to look forward, we can't love her any less because she is born with Down Syndrome. From that day on, I surfed the net, gathered all the information I could, talked to any person who might help & started working on my child.
At first, I got her assessed from Children Hospital, Lahore (Xunairah was born in Lahore) and started the suggested therapies at home. We moved back to Karachi when Xunairah was 2.5 yrs old. In June 2011, I wanted to enroll her in a school immediately. Through a friend of mine, I came to know of an NGO by the name Humqadam, who provided me with a list of schools with an inclusive setup. I started calling them and every one of them refused to admit my child to their school. Since their admissions were closed and they were not in any mood to waiver their rules for my daughter. Another friend of mine who was living in Karachi at that time had given me the number of Milestone Charitable Trust which was a special school. I approached Fauzia Hussain, the director, for Xunairah's admission. Fauzia told me very clearly that Xunairah belongs in a mainstream school. I requested her to enroll Xunairah in this school as all the schools have refused her admission and I don't want to waste her time. That's how she started school.
The occupational therapist & speech therapist at Milestones recommended that Xunairah would need these therapies independently also. We started looking for therapists and soon found out that this has also turned into a commercial business. For a middle class family it is very difficult to get good therapist for their child. I have firm belief that when Allah blesses you with a special needs child He treats you specially and surrounds you with good people. Same happened in the case of Hafsa Iftikhar who became Xunairah's first speech & remedial therapist. She was a special educater & a student herself. She really brought about a lot of improvement in my child.

Next year, I again applied in all the mainstream schools with inclusive setup but this time she was again refused admission for one reason or the other. One day, on my way home after dropping Xunairah to MCT, I came across a Montessori. I decided to talk to the principal there, for her admission. Surprisingly! she agreed to give admission to my daughter, only if I provided a resource teacher. Finding a resource teacher was a tedious task, not because they are not available, but because they charge too much. Finally, I got one for her, but she was not a punctual lady and would not show up at school without informing me & that day I was asked to take Xunairah back home.
Next year again, I applied for Xunairah's admission in various schools. She was refused admission again. I would also like to share my experience with regards to a psychologist to whom I took Xunairah for evaluation, as that was required by various schools. I was told that children like Xunairah belong in a special school and I should not have high expectations with regards to my child. When I told her of all the research being done in the West she told me that she had 27 years of experience & does not believe in Western theories. She also gave a negative evaluation for Xunairah that could hinder her getting admission in any mainstream school. Upon my persuasion she changed a few words. I felt very depressed after visiting her.
But her negativity could not stop me from doing what I considered best for my child. Allah sent another angel in the form of her previous teacher who asked me to get her enrolled in another school which have a inclusive setup. I visited the school a few times & met the principal, Miss Tayyaba Malik (a wonderful lady), and this is how Xunairah started her journey in a mainstream school in August 2013.
It is her 6th year in the school. She started playgroup and Alhamdulillah, now she is in Class 3. I share her journey on a page that I created for her and try to help other parents who have children with special needs. Xunairah is also a member of Karachi Down Syndrome Programme & Special Olympics Pakistan. She has also participated in last 2 swimming camps organised by them. With a beaming smile & a loving hug Xunairah has made many friends.
Submitted to "Share To Aware" by Humera Anjum