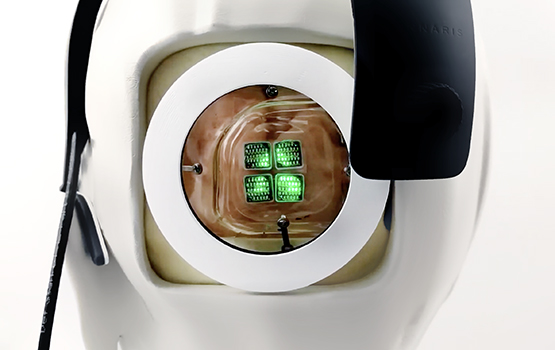 Scientists, researches, and doctors are preparing to implant the world's first human bionic eye that will allow blind people to see. The team consisting of researchers, doctors, and scientists at Monach University in Melbourne, Australia, have built a bionic device that they say can restore vision through a brain implant which is named as Gennaris Bionic Vision System, this device includes a custom headgear fitted with a wireless transmitter and camera, a vision processor unit and software and a set of 9X9 millimeter tiles that are implanted into the human brain. Studies of the device, used in sheep during a trial in July 2020, were found to be successful and didn't produce any adverse or negative health effects. The dedicated team of doctors, researchers are also hoping to adapt the system to help those with untreatable neurological conditions, such as limb paralysis, to regain movement. A date for the human trials has not been announced yet.
Through Monash University's Cortical Frontiers project, researchers and doctors have developed miniaturised, wireless electronic implants that sit on the surface of the brain and have the capacity to restore vision.

In a News article published on Monash University official website, Professor Lowery, from Monash University's Department of Electrical and Computer Systems Engineering, said: "Cortical vision prostheses aim to restore visual perception to those who have lost vision by delivering electrical stimulation to the visual cortex – the region of the brain that receives, integrates and processes visual information,".
For daily awareness and motivational posts connect with us on Facebook – Twitter and Instagram
Like this post? Or have something to share? Write to us via email: submit@sharetoaware.com
For more stories like this, visit our home page.
Don't Forget To #ShareToAware