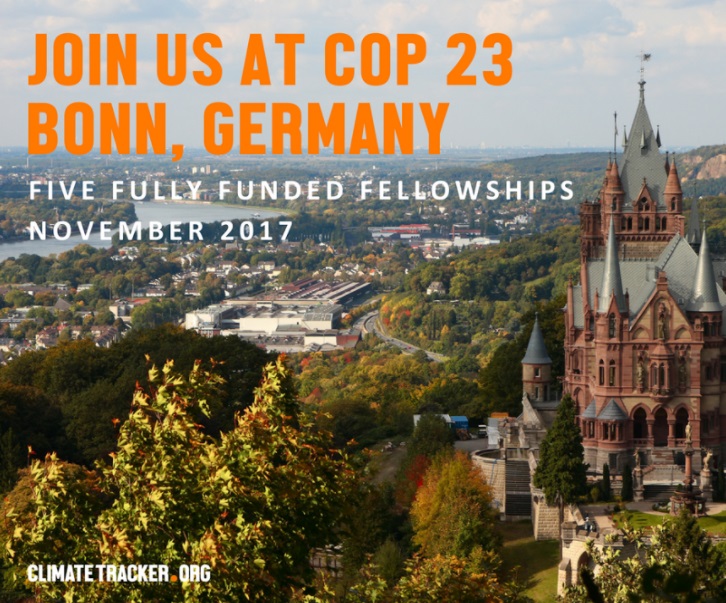 Climate Tracker is launching its COP23 opportunity, and it is stacked with opportunities and prizes for Trackers from everywhere in the world!
If you want to be part of this incredible transition, it's time to raise your voice, and join their opportunity for a Fully Funded trip to COP23, in Germany in November.

With the signing of the Paris Agreement almost two years behind them, it is time to step up their game. The Renewable Energy Transition is unstoppable! Even if Trump wants to pull out of the Paris Agreement, now he wants Solar Panels on Border Wall.

Around the world, Renewable energy is driving bigger changes than we have seen in generations, and the pressure is on for countries to take their transitions even further. 
Benefits
Fully funded fellowship (including accommodations, travel, allowance)

Join the United Nations Framework Convention on Climate Change 23rd conference of parties
Am I eligible to apply?

Participants from all countries between the ages of 18 and 30 years old are eligible.

They do have one special set of Countries, and they will definitely select at least one person from the following Countries:

Indonesia | The Philippines | India | Ethiopia | Nigeria | Egypt | Bangladesh | Peru | Pakistan | Turkey

But they have 4 other spots available for anyone in the world!

They encourage young writers from around the world (like yourself) to help us write inspiring stories and to publish them in media, and we will reward five of you with a spot to COP 23 in Germany!

Publish 3 articles on the topics of:
Renewable Energy,

Climate Finance,

and Climate and Health.
Deadline: September 30, 2017
Official Link to Apply for Fellowship to COP 23 in Bonn, Germany (Fully Funded)

http://app.climatetracker.org/competition/52aa87a3-3ed2-4392-8c50-e5473a9b36a2/information

Deadline: September 30, 2017